TICKETS available online and start at $39 plus fees
IMPORTANT TICKET ANNOUNCEMENT!
Also, please retain previously purchased tickets as they will be honored for the new date!
Thursday, October 28, 2021 | 7:30 PM
Long Center for the Performing Arts - Mars Theatre
111 N Sixth St, Lafayette, IN 47901
Box Office opens at 6:30 PM
Doors open at 6:30 PM
Show time: 7:30 PM
Long Center COVID-19 Reopening Policy
We encourage guests to be vaccinated against COVID-19. Face coverings are required to enter the venue, regardless of vaccination status. As of October 2021, the Indiana State Dept. of Health says face coverings are the most effective way to reduce community spread of COVID-19 and variants.
The Long Center Concessions serves beer, wine, and select mixed drinks plus snacks and candies.
*Please note the Long Center is a historic venue. There is no elevator to the balcony section.*
With his third album (plus a chart-topping Christmas record), the young star takes a huge creative step forward. He co-wrote all 11 songs on Seasons Change, working with some of the finest songwriters in Nashville to express a wide range of emotions and musical styles.
"I've lived a lot of life since my last record," says Scotty McCreery. "I moved out on my own, I traveled across the country and the world, I got engaged, I was dropped by my label, I was even robbed at gunpoint. So I really wanted this album to show who Scotty is at 24, what's going on in my life, and I think we accomplished that."
After winning Season 10 of "American Idol" in 2011, McCreery made history when he became the youngest male artist of any genre, and the first country music artist ever, to have his debut album enter at No. 1 on the Billboard Top 200 chart. Clear as Day was certified Platinum for sales of one million units in just 13 weeks and became the best-selling solo album released by a country artist in 2011. The singles "I Love You This Big" and "The Trouble with Girls" were also certified Platinum. He won the New Artist of the Year award at both the Academy of Country Music (ACM) Awards and the American Country Awards, and also received the CMT Award for Breakthrough Video of the Year for "The Trouble with Girls."
A year later, Christmas with Scotty McCreery debuted at No. 1 on the Billboard Top Holiday Albums chart and was quickly certified Gold. His next album, 2013's See You Tonight, debuted at No. 1 on the Billboard Country Albums chart, and "See You Tonight" and "Feelin' It" both reached the Top 10 and were certified Platinum and Gold respectively. "See You Tonight" earned McCreery both his first BMI Award for writing one of the Top 50 Country Songs of 2015, and his first Music Row No. 1 Challenge Coin for landing atop the Music Row Country Breakout Chart.
SUPPORTING ARTIST:

The day the musical fire lit in Curb recording artist Jackson Michelson, he hit the ground running and never looked back. A born entertainer with a knack for fan interaction, Michelson has long averaged upwards of 200 shows a year, playing to crowds that just seem to 'get' him and his music. A Portland, Oregon native, his extensive tour schedule and west coast travels have played a part in Michelson's sound-an eclectic mix of classic country storyline with elements of roots and rock. The result, which can be heard on recent track releases "One At A Time" and "Stay Over," gives listeners a take on the country genre "as fresh and clean as the Pacific Northwest air" he comes from. With a stage presence to match and thousands of live performances under his belt, Michelson's ability to connect with his fans is earning him a prominent spot in country music's landscape. "I'm an entertainer, it's who I am. I'm not there for you to clap for me-I'm there to put on a show and engage with you."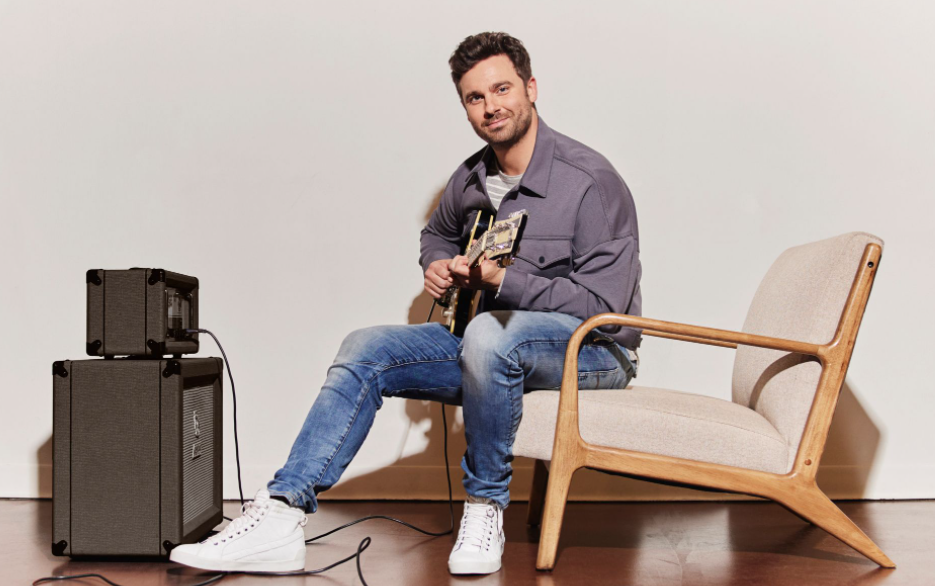 The Portland, Oregon native grew up in a musically inspired family-his stepfather was a high school theater director, and his stepbrother a musician. Watching as his stepbrother secured a record deal in Nashville and kicked off a successful career in Christian music opened Michelson's eyes to the potential for a career in music . "Seeing my brother do what he did made music seem possible. I remember thinking, 'Man, that's what I want to do. If I can do that, I want to do that.'" Michelson picked up a guitar for the first time at age 10, and almost immediately began writing songs, learning a few chords at a time. In high school, he hit the road selling merchandise for his brother on tour. "My brother would get me up to sing at his shows. It was such a rush-entertaining just came naturally to me. "When home, he continued writing and performing in church, improving as a musician and band leader
Upon graduating high school, his brother moved back west to start band Root Down-and employed Michelson as a lead singer and bass player. Though a west coast tour schedule and opportunities to showcase for labels proved invaluable, it was a show at Nashville's famous 3rd and Lindsley that altered Michelson's course. "Dan Huff saw the set and approached me afterwards. He told me he didn't love the music, but loved watching me and encouraged me not to give up. Coming from him, that was a game changer." When Root Down disbanded, Jackson knew he needed to go solo. "I knew I needed to go for it-and I knew I was going to work harder than anyone else."
Michelson began booking shows regionally, writing and recording-using all the money he and his wife had to record his debut solo project. "We'd saved up enough money to record at the studio Willie Nelson recorded his first album in. I was playing a few hundred shows a year, married with a young kid at the time, trying to make ends meet. There was no plan B." His efforts paid off-the project distributed over 20,000 copies independently, and built Michelson a solid fanbase in the country genre. "I would sign and meet with people after every show-it didn't matter if I was playing to eight in a smoky bar, or 10,000 opening for Lee Brice. Fans would say, 'I really like your style of country music...' I'd set out to record a great record, regardless of genre." After a chance meeting with Nashville-based booking agent Todd Thomas, Michelson added monthly trips to Music City to the mix, writing twice daily, five days at a time. "I knew I needed to give my writing the same attention I'd given the road for the past several years."
His major turning point, though, came with the help of fellow country acts Brice, Cole Swindell and Frankie Ballard. "I was doing a run of shows with the three of them down the west coast, and I'd just released my single 'The Good Life.' The three of them made a video for the program director of Sirius XM's The Highway, asking him to give me and my music a shot... and he did." The national success from the exposure on The Highway's On the Rise program lead to interest from several labels, including Curb Records. "Tim McGraw was a favorite of mine growing up, and he was signed to Curb. I knew it was my place." Shortly after label owner Mike Curb flew out to one of Michelson's shows, the artist made his dream partnership official.
Michelson's spent the better part of the past few years preparing new music. "I started working with Curb for publishing, and wrote over 100 songs last year so I'd have plenty to pick from." Collaborating with Justin Ebach, Jeff Pardo and Jim Ed Norman for production, his new music is a testament to his hard work, continued dedication to fans and spot as one of country music's most anticipated up-and-comers. "There's nothing like the fan connection that comes with a great song and live performance. I have to do this for the rest of my life."
PRESENTED BY:

SPONSORED BY: