Saturday Morning Family Music Series

Saturday, December 4, 2021 | 10:30 AM
Long Center for the Performing Arts - St. John Pavilion
111 North Sixth Street, Lafayette, IN 47901
Box Office opens at 10:00 AM
Doors open at 10:15 AM
Each child's ticket is $10 and allows admission of two adults, no additional charge.
Limited seats - advance ticket purchase is suggested! Attend all in the series.
Long Center COVID-19 Reopening Policy
We encourage guests to be vaccinated against COVID-19. Face coverings are required to enter the venue, regardless of vaccination status. As of October 2021, the Indiana State Dept. of Health says face coverings are the most effective way to reduce community spread of COVID-19 and variants.
MUSICAL ARTIST: Purdue Bells specialty Four in Hand
20 Minutes + Meet & Greet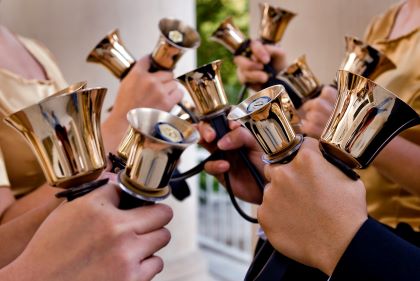 Celebrate the season with Purdue Bells. The men and women of Purdue Bells blend traditional handbell ringing with innovative techniques.
The informal experience is 20 minutes of music, with 15 minutes for families to meet the musicians or interact with the musical instruments. The entire experience is under one hour. Families are encouraged to enjoy the casual presentations together and are welcome to sit on the carpeted floor of the St. John Pavilion at the Long Center.
SPONSORED BY: