TICKETS: $8 online or at the door (plus credit card fee as needed)


Thursday, June 2, 2022 | 6:00 PM
Lafayette Theatre
600 Main Street, Lafayette, IN 47901

5:30 PM - Doors open
6 PM - 7:30 PM - Music
8 PM - Event concludes
Beer, wine, and snacks available for purchase.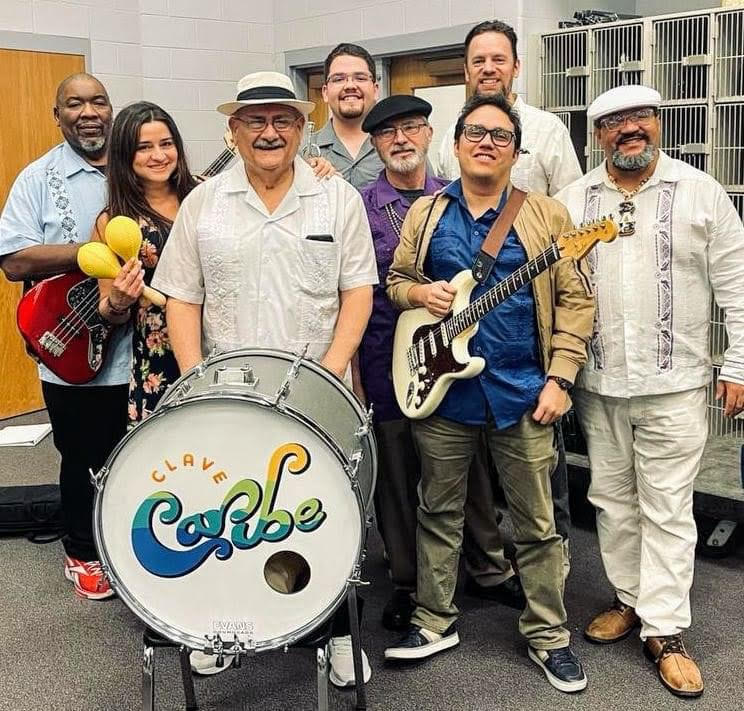 Clave Caribe (pronounced KLAH-beh kah-REE-beh) has its roots in Puerto Rico with the musical activities of the director, guitarist, and vocalist Norberto "Tito" Toro. The group has always had a family-based vibe even when the members moved to Lafayette, Indiana. The group reformed in 2007 to perform in the first Latino Festival held at a local community college. Since then, the group has grown with new members, many with connections to Purdue University. Clave Caribe now consists of ten members from Puerto Rico, Colombia, and the United States, and continues to develop its diverse repertory while amplifying its presence in the regional music scene.
• Salsa
• Cumbia
• Latin Pop & Rock
• Bachata
• Merengue
• Latin Jazz• Samba & Bossa Nova• Bolero• and more!
Clave Caribe tiene sus raíces en Puerto Rico con las actividades musicales del director, guitarrista, y vocalista Norberto "Tito" Toro. El grupo siempre ha tenido un carácter familiar aún cuando los integrantes se mudaron a la ciudad de Lafayette, Indiana. El grupo se formó de nuevo en 2007 para tocar en el primer festival latino de una institución educativa local. Desde entonces, el grupo ha crecido con integrantes nuevos, muchos con conexiones a la Universidad de Purdue. Ahora, Clave Caribe consiste de diez integrantes de Puerto Rico, Colombia y los Estados Unidos y va desarrollando su diverso repertorio y ampliando su rango para ser un grupo conocido en toda la región.


We encourage guests to be vaccinated against COVID-19.
Face coverings are recommended to enter the venue, regardless of vaccination status.
As of October 2021, the Indiana State Dept. of Health says face coverings are the most effective way to reduce community spread of COVID-19 and variants.
SPONSORED BY: