TICKETS - SOLD OUT!!!
Ages 2 and older must have a ticket.
All ages are welcomed, but please note that some "PG-13" language will be used during the performance.
Saturday, September 16, 2023 | 7:30 PM
Long Center for the Performing Arts - Mars Theatre
111 N Sixth St, Lafayette, IN 47901

Box Office opens at 6:30 PM
Doors open at 6:30 PM
Show time: 7:30 PM
The Long Center Concessions serves beer, wine, and select pre-mixed cocktails plus snacks and candies.
*Please note the Long Center is a historic venue. There is no elevator to the balcony section.*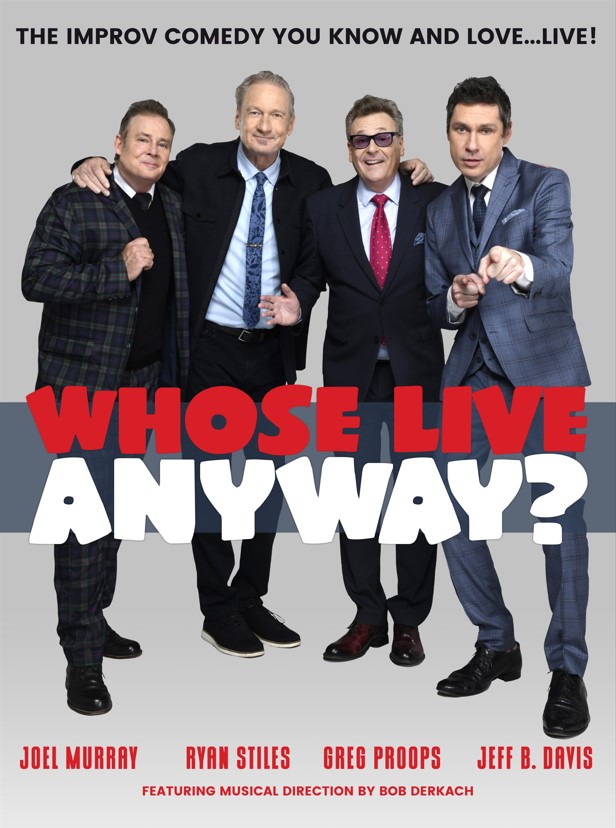 WHOSE LIVE ANYWAY?
Prepare to laugh until you cry when four of the world's most masterful improv artists take you on the high wire act of comedic acrobatics. The rapid-fire wit and non-stop jokes will have your sides splitting and begging for mercy…and also begging for more. Starring Ryan Stiles and Greg Proops, both seen on ABC's "Whose Line Is It Anyway?" as well as Jeff B. Davis and Joel Murray. If you are a "Whose Line?" fan, get ready for the same relentless laughter that you grew to love, but without the commercial breaks! If you are new to improv comedy, then you are in for a show unlike anything you have ever seen before.
Ryan Stiles' television credits include roles on "The Drew Carey Show" and "Two and a Half Men," while Greg Proops has lent his vocal talents to animated characters in Star Wars: Episode 1, The Nightmare Before Christmas, and Brother Bear. However, both got their start as comedians and are excited to return to their funny-bone-tickling roots.
Jeff B. Davis is also a highly experienced improv comedian and starred in the cult classic cartoon series, "Harmonquest." He has also starred in "Drew Carey's Green Screen Show" and "Improv-a-Ganza," while gaining fame for his spot-on impressions of Christoper Walken, Keanu Reeves, and Jeff Goldblum.
Joel Murray is the youngest of the nine Murray brothers, including Bill Murray, but has become a star in his own right. Though he has over 250 sitcom appearances, he is best known for his recurring roles like Freddy Rumsen on "Mad Men" and Eddie Jackson on "Shameless." He has also appeared in One Crazy Summer, The Artist, Scrooged, and Bobcat Goldthwait's God Bless America.


For more information about the tour: www.whoselive.com

THANK YOU SPONSORS!