TICKETS: $8 plus fees


Thursday, December 1, 2022 | 6:00 PM
Lafayette Theatre
600 Main Street, Lafayette, IN 47901

5:30 PM - Doors open
6 PM - 7:30 PM - Music
8 PM - Event concludes
General Admission
Limited table seating available.
Beer, wine, and snacks available for purchase.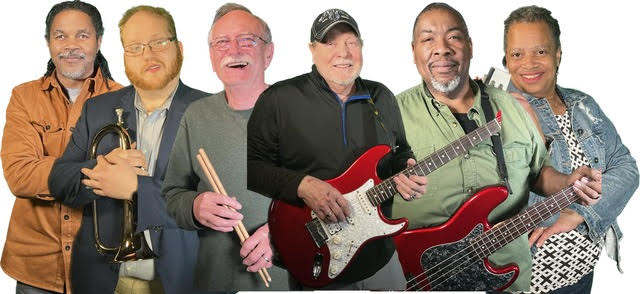 The Distance band plays the music of Fleetwood Mac, Rolling Stones, Tina Turner, Tears for Fears, Chic, Tracy Chapman, and Aretha Franklin!
The band members include:
CHARLES BROOKS
Born in Indianapolis. Charles started playing bass at the age of 12. I grew up playing music
with artists like BabyFace, Manchild, Fastlane and other music projects. Charles moved to
Lafayette in 2007 from Los Angeles where him and his kids found success in the TV
and movie industry. Charles is married to fellow bandmate CJ Towns Brooks and both
serve the Lafayette community as members of several boards in the city and Case
Managers for Lafayette's Mental Health community. Charles is the bass player for The Distance.
CJ TOWNS BROOKS
CJ has lived in the Lafayette area since 1980, moving from her hometown of Rockford, IL.
CJ sang as part of a singing group called "Sisters of Thunder" for over 20 years. CJ has
participated over the years in community choirs and other musical and spoken word projects.
CJ is community minded serving on Lafayette School, Church Elder and Fiddler's Gathering
boards. CJ is now one of the lead singers for "The Distance". The mother of 4 Fierce daughters and self proclaimed Trekkie for Life.
CHAMIS DOUGHERTY
Chamis is a relatively new player on the scene, coming mostly from a jazz background.
Chamis has been playing trombone since 12 and keyboards since 16 years of age. Chamis
had several mentors for various instruments throughout high school and college. Chamis tenure
in Lafayette consist of playing trombone for Big Swing Band and now Keyboard and occasional
brass with "The Distance"
TONY GOINS
Tony comes from a musical family and has been playing since the age of 14 and still going strong.
Tony has toured the States and Europe with some of the the best well known entertainers in the
business. That includes several decades with Danny and the Juniors. When not out performing, you
can find Tony hard at work in his Recording Studio "Livewire Pro Audio" Tony now plays guitar and adds vocal to the "The Distance"
JOHN TILFORD
John has been playing drums since high school in the 60's. John recalls his first professional gig of
playing with the "The Sensationals in 1964. John has been in the music scene in Lafayette for many
years and is currently playing drums in the "Big Swing Band" along with fellow bandmate Chamis.
John has also been on the local jazz scene in Lafayette as well, participating yearly in the April Jazz
Appreciation month and Jazztober music celebrations. John has played in countless musicals endeavors
and now currently playing drums with "The Distance"
JAMES WOODFORD
James a main staple in the Lafayette music scene has been singing all over the city in various venues.
A yearly participant in the April Jazz Appreciation month and Jazztober celebration. James is an advent
member of the atrs, participating in many of Lafayette Civic Theatre productions. James is one of the
lead singers of the Distance.
THANK YOU SPONSORS!