October 1, 2, 2021 | 8:00pm
October 3, 17, 2021 | 2:30pm
November 21, 2021 | 2:30pm
December 3, 4, 2021 | 8:00pm
December 5, 2021 | 2:30pm
February 18, 19, 2022 | 8:00pm
February 20, 2022 | 2:30pm
March 4, 5, 2022 | 8:00pm
April 16, 2022 | 5:00pm & 8:00pm
For more information: https://www.purdue.edu/bands/events/
Long Center for the Performing Arts - Mars Theatre
111 N Sixth St, Lafayette, IN 47901

Doors open 30 minutes before show time.
Long Center COVID-19 Reopening Policy
We encourage guests to be vaccinated against COVID-19.
Face coverings are required to enter the venue, regardless of vaccination status.
As of October 2021, the Indiana State Dept. of Health says face coverings are the most effective way to reduce community spread of COVID-19 and variants.
Protect Purdue guidelines
All visitors are required to follow Protect Purdue guidelines, including wearing a mask that covers the nose and mouth, regardless of vaccination status.
*Please note the Long Center is a historic venue. There is no elevator to the balcony section.*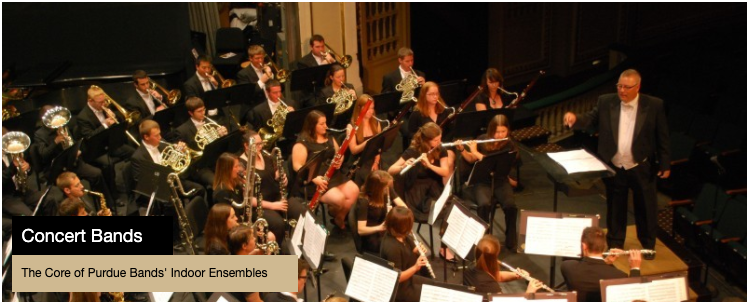 https://www.purdue.edu/bands/ensembles/
Can't john in person? Enjoy free concerts on our YouTube page:
https://www.youtube.com/channel/UCOgHeha097FMhwIBiojyCQg
For more information: https://www.purdue.edu/bands/events/