Friday, February 3, 2023 | 7:30 PM
Long Center for the Performing Arts - Mars Theatre
111 N Sixth St, Lafayette, IN 47901

Box Office opens at 6:30 PM
Doors open at 7:00 PM
Show time: 7:30 PM
The Long Center Concessions serves beer, wine, and select mixed drinks plus snacks and candies.
Ages 2+ must have a ticket.
*Please note the Long Center is a historic venue. There is no elevator to the balcony section.*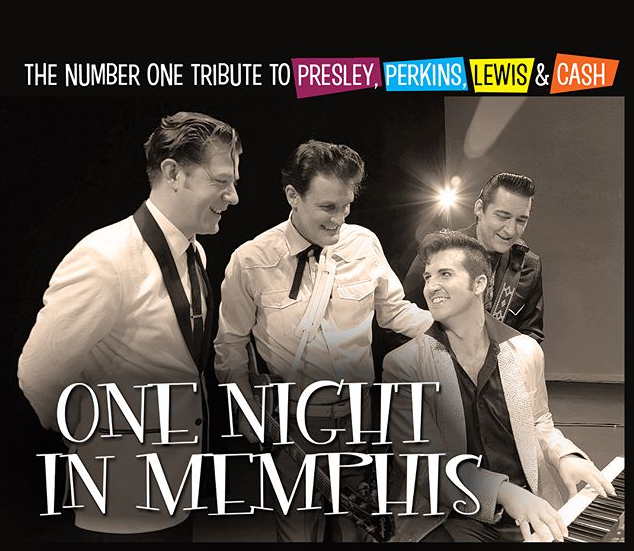 One Night in Memphis: Presley, Perkins, Lewis & Cash tributes a night in rock and roll history that still lives on today. On December 4th, 1956, Carl Perkins, along with his brothers Clayton and Jay booked a recording session at Sam Phillip's Sun Records studios in Memphis, TN. He was to record an old blues song called, "Matchbox" that the Beatles covered as well years later. On the session as well was one of Sam Phillip's latest acquisitions to his stable of acts, a young and cocky piano player from Ferriday, Louisiana by the name of Jerry Lee Lewis. Not too long after they got a satisfactory take, Elvis Presley dropped by (a big star already) and listened in. Johnny Cash dropped in as well. A jam session then ensued and the engineer that day Jack Clement kept the tape rolling without the knowledge of anyone. The jam session went on for quite a while and at some point during the session Sam Phillips called the Memphis Press Scimitar newspaper and they came by towards the end and shot some photos of it. An article appeared the next day about the memorable occasion under the headline of "Million Dollar Quartet." What survives today is a recording of an event that is a momentous eavesdropping on American recording artist icons in their prime; Elvis Presley, Carl Perkins, Jerry Lee Lewis and Johnny Cash all having the time of their life singing country, gospel and rock and roll songs. It's a fascinating glimpse of rock and roll in its infancy and shows what these legends all shared in common; growing up in the south and singing gospel music in church. You can also hear a camaraderie between major music stars in their prime, something that is rare in today's music business.
"One Night in Memphis" was created in 2012 by John Mueller, well known for his long running and successful number one tribute, "Winter Dance Party, tribute to Buddy Holly, Ritchie Valens and the Big Bopper."
For more info, visit www.onenightinmemphis.com or www.wdpproductions.com

Brandon Bennett
As Elvis Presley
Brandon Bennett is a young man hailing from Louisiana and has quickly risen to the top of Elvis tribute performers. Brandon has an uncanny look and feel of Elvis in his prime in the 1950's and portrayed Elvis in the long running Broadway smash "Million Dollar Quartet" in Chicago for over 5 years running. He has won many national Elvis contests and has impressed many with his truly great singing voice. Unlike many other Elvis tribute artists, Brandon hails from the south and has that southern feel, charm and sincerity that cannot be imitated. Married with four kids to his high school sweetheart, Brandon would like to thank everyone for coming out to the show. Read and see more about Brandon at www.elvismyway.com
Travis Daggett
As Carl Perkins
The son of musical parents, 25-year-old Southern California native Travis Daggett began playing the guitar at the age of 14. Starting out in church playing gospel music with his preacher father, Travis quickly branched out after discovering – and falling in love with – the sounds of roots rock and Americana (particularly the sounds of Sun Records and Chess Records). Based out of the greater Los Angeles area since 2012, Daggett has been performing all over the globe, from New York to Disneyland and as far as the Middle East. He's become one of the country's premier guitar players for Elvis Presley tribute artists, and has channeled the late, great Scotty Moore behind dozens of award winning 50's area Elvis acts. You can find recorded music and news on Travis' current happenings by going over to www.travisdaggettmusic.com
Blair Carman
As Jerry Lee Lewis
Blair Carman hails from Cincinnati and has been playing piano since he was twelve years old. He grew interested in 1950's rock and roll by listening to his parents old 45's. A high demand act know both nationally and internationally, Blair plays with his own bad the Belleview Boys the hits of Jerry Lee, Elvis, Hank Williams and all the greats. Blair was the only Jerry Lee Lewis performer personally invited to play at Jerry Lee Lewis's 75th birthday party at the Killer's home in Louisiana. Blair has been rocking and rolling with "One Night in Memphis" since 2012 and thanks everyone for coming out to the show. Read and see more about Blair at www.blaircarman.com
Neil Morrow
As Johnny Cash
Born and raised in Anaheim, California, Neil Morrow always had a unique taste in music. At an early age, Neil was not drawn to current styles of music but the music that was coined by DJ Alan Freed as "Rock and Roll". Morrow soon began to take up the piano and guitar and learned the styles of his favorites such as Johnny Cash, Elvis Presley, Jerry Lee Lewis and Buddy Holly. But it wasn't Morrow's instrument skills that got the attention of others, it was his voice. His singing style has a familiar tone and range to everyone from Johnny Cash to Roy Orbison. After performing in many talent competitions, Neil decided to form a band and pay tribute to his favorite music of the 50's. It was sometime after Neil was approached to play piano for the nationally touring show "Buddy, Roy and Elvis." It was soon after that Neil was brought to the front of the stage as Roy Orbison. A natural entertainer, Neil has been featured as Johnny Cash with "One Night in Memphis" since 2012 and always looks forward to the show.
"One Night in Memphis" features over 90 minutes of pure rockabilly, country,
gospel and rock and roll in an authentic and energetic presentation featuring
nationally known talent.

The show recreates that magical night of Dec.4, 1956 when Elvis Presley, Carl Perkins, Jerry Lee Lewis and Johnny Cash found themselves jamming at Sam Phillip's Sun Studios in Memphis, TN. Little did they know that their jam session was being recorded and preserved for all time, representing all the performers in their prime and the very best music of that time.

"One Night in Memphis" is created and directed by John Mueller from the highly
acclaimed show "Winter Dance Party" and has met with the same accolades and audience standing ovations. The San Francisco Examiner raves, "An amazing show!"
For more show highlights visit: www.presleyperkinslewiscash.net

THANK YOU SPONSORS!