Sunday, November 3, 2019 | 2:30 PM
Long Center for the Performing Arts - Mars Theatre
111 N Sixth Street, Lafayette, IN 47901
Box Office opens at 1:30 PM
Doors open at 2:00 PM
Show time: 2:30 PM-4:30 PM
LONG CENTER THEATRE ORGAN SOCIETY
We couldn't decide on just one King of Comedy to feature in November, so it's a triple play!
THE BOAT (1921): Do-it-yourselfer Buster decides his family needs a yacht, so he builds one in his garage. What could go wrong?
BIG BUSINESS (1929): Stan and Ollie decide to become Christmas tree salesmen. What could -- ...wait, with these two, a lot could go wrong.
NEVER WEAKEN (1921): The Boy thinks he's lost his Girl's affections to a rival. The only thing to do, he decides, is to end it all. Thankfully, everything goes wrong.
Organist Ken Double accompanies the films on the historic Mighty Wurlitzer of Long Center November 3rd, 2019. Experience these Kings of Comedy as audiences originally did -- great laughs, great music, great fun!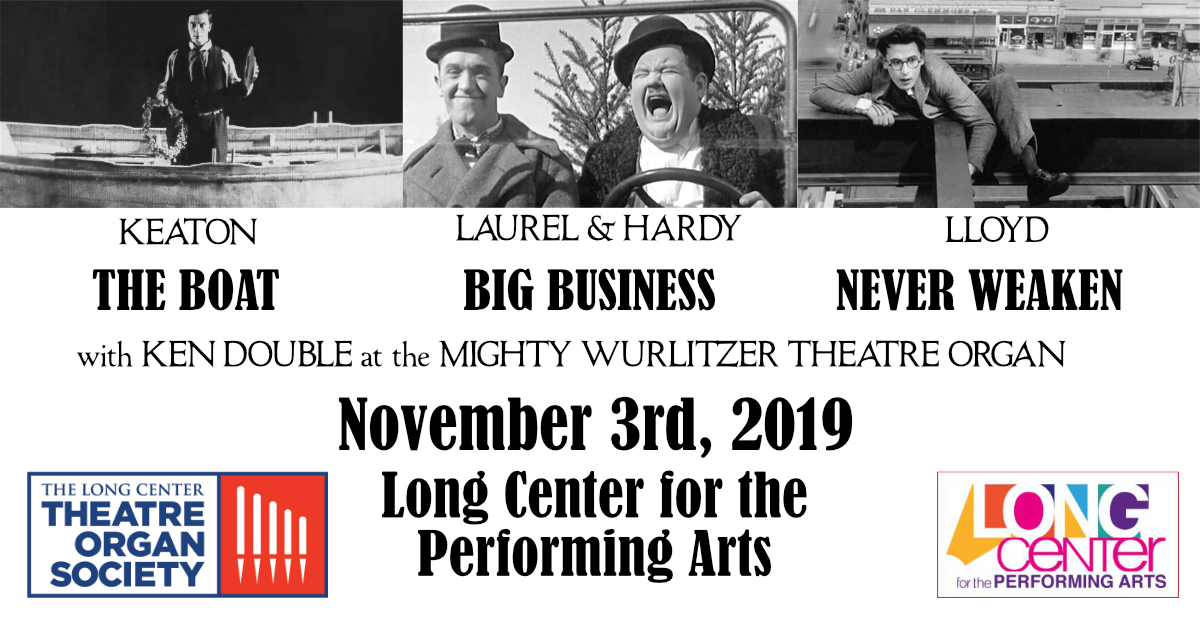 Please note the Long Center is a historic venue. There is no elevator to the balcony level.