TICKETS available online | $29, $49 & $79 plus fees


Friday, September 2, 2022 | 7:30 PM
Loeb Stadium
1915 Scott St, Lafayette, IN 47904
Box Office opens at 6:00 PM
Gates open at 6:00 PM
Show time: 7:30 PM
Loeb Stadium is a cashless venue, and smoking and tobacco use is prohibited.
Venue is an outdoor stadium, and the event is rain or shine.
Ages 2+ must have a ticket.
Concessions serves beer, wine, and snacks available for purchase. Credit or Debit card sales only.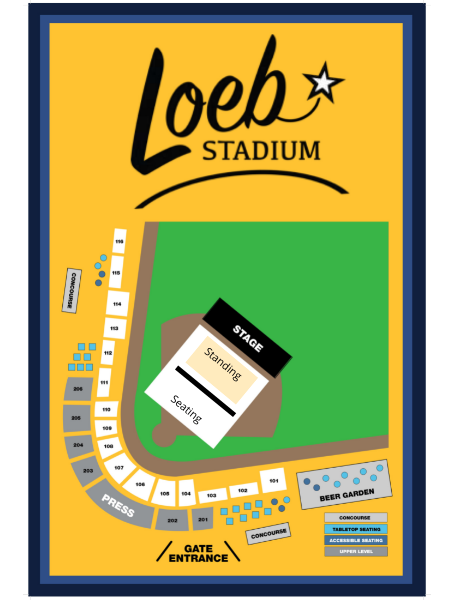 Opening act:

Hometown favorite Levi Riggs - Country recording artist, Purdue Boilermaker, and Midwest farmer.



Justin Moore has built a loyal following over the past decade with his traditional Country sound and captivating live shows. Those fans helped boost his fifth studio album, LATE NIGHTS AND LONGNECKS, to the top of the charts upon its release. Lead track "The Ones That Didn't Make It Back Home," and follow up "Why We Drink" both peaked at No. 1 on both Mediabase and Billboard bringing the Arkansas native's tally to nine chart-toppers.
Moore's previous project, KINDA DON'T CARE, earned the singer his third consecutive No. 1 album debut and features his chart-topping singles "You Look Like I Need A Drink" and "Somebody Else Will." It served as a follow-up to his second No. 1 album release, the GOLD-certified OFF THE BEATEN PATH.
Over his 10+ year career, Moore's No. 1 hits have also included "Point at You," "Lettin' The Night Roll" "If Heaven Wasn't So Far Away," "Small Town USA" and "Till My Last Day" as well as seven Top 10 hits and PLATINUM-certified albums JUSTIN MOORE and OUTLAWS LIKE ME.
His latest offering "We Didn't Have Much" reminisces on Moore's simple upbringing and appreciation of life's most precious moments. The nearing Top 15 track is the first single off STRAIGHT OUTTA THE COUNTRY and was penned alongside Jeremy Stover, Randy Montana, and Paul DiGiovanni. The collection embraces his trend of Country traditionalism, vivid storytelling, and signature Arkansas-bred twang across eight tracks.
The Valory Music Co. recording artist has earned multiple ACM, ACA and ACC Awards nominations as well as an ACM Award win. He has shared the stage with Hank Williams Jr., Brad Paisley, Miranda Lambert and routinely traversing coast-to-coast on headline runs.