Friday, August 6, 2021 | Open House 6PM - 8PM
Long Center for the Performing Arts - Mars Theatre
111 N Sixth St, Lafayette, IN 47901

Doors open at 5:50 PM
Open House: 6 PM - 8 PM
Face coverings - per CDC guidelines, if you are fully vaccinated then you are not required to wear a mask.

Hand sanitation stations in the lobby.
Reduced capacity.
Increased cleaning protocols. Limited restroom access. Limited concessions.
Practice social distancing at all times. Stay home if you are feeling sick.
*Please note the Long Center is a historic venue. There is no elevator to the balcony section.*
Start your First Friday with a visit to the Long Center.
First Friday information: firstfridaylafayette.com
Organist Matt Gerhard is making his debut on the Mighty Wurlitzer. Enjoy a variety of pop hits, show tunes, and audience favorites. Special thanks to our friends at Long Center Theater Organ Society.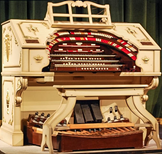 Matt Gerhard has been a theatre organ fan since childhood. Matt's interest in the theatre organ was sparked by his first organ CD: It's a Grand Old Flag, recorded by Melissa Ambrose-Edison on the Detroit Senate Theater's 4-34 Wurlitzer. He also experienced two trips to the Paramount Music Palace in Indianapolis before its closing.
Matt enjoys being involved with the Central Indiana Chapter of the ATOS. Currently, he is 1st Vice President. In the past Matt has served as President, Recording Secretary, and At-Large board member.
As an artist, Matt has performed for a number of organizations across the country including Shepherd's Grove Community Church in Garden Grove California, Joliet Area Theatre Organ Enthusiasts, the Central Indiana Chapter of the ATOS, and Olivet Nazarene University. Currently, Matt is one of the organists providing pre-show music at the Hedback Theatre and the Warren Performing Arts Center, both in Indianapolis. In the past he has substituted at Beggar's Pizza in Lansing, IL as well as the for the Indianapolis Symphony Orchestra's annual Yuletide Celebration.
Since 2010 Matt has served as Director of Music at Kokomo Zion United Methodist Church in Kokomo, IN. He also serves as the Instructional Assistant for the choral program at Northwestern Middle and High School in Kokomo as well as teaches piano lessons.
Matt has had theatre organ coaching from Mark Herman, Justin Stahl, and Bob Salisbury. His classical and church training was under Rev. William H. Brown, Dr. Timothy Nelson, and Dr. Beverly Howard. Matt studied piano with Amy Shumway and Dr. Gerald Anderson.
Matt earned a Bachelor's in Church Music from Olivet Nazarene University and a Master's in Choral Conducting from California Baptist University.
SPONSORED BY: